Field service management (FSM) is a kind of software products that help companies manage off-site workers and the resources they require to do their jobs efficiently (for example, think about technicians installing or conducting maintenance of some client's devices). What causes problems for companies is being often disconnected from their systems and employees. They struggle with poor resource allocation and the lack of mobile support. Field service management is not a new concept but it can be challenging. Legacy, on-premise, and disconnected systems are costly, limit the employees' productivity, and can gravely impact customer's satisfaction.
Salesforce ensures that Field Service Lightning (FSL) can bring new quality to customer service organizations that can streamline operations across the entire customer service journey and connect to customers in a whole new way with a single platform.
Under the hood, Salesforce's FSL is built using extensive experience from ClickSoftware, a company which has years of intelligent automation and field service experience. It's embedded into the Service Cloud and it's Salesforce response to widening gap of customer experience. "It's about connecting phone to field", said one of the senior directors of product marketing for Salesforce Service Cloud.

How It Works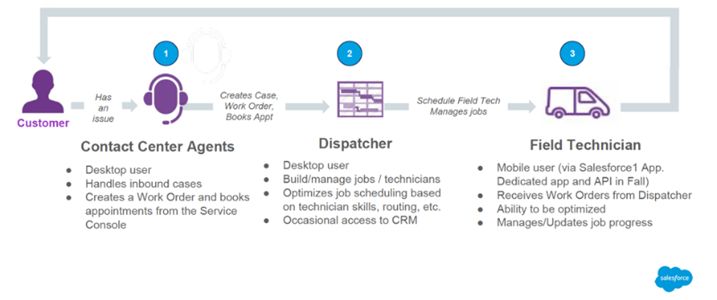 Customer

Has an issue, books a service appointment.

Service Agent

Creates a Work Order and schedules an appointment from any Case (or any other object in the system – Opportunity, Asset, custom objects etc.)

Dispatcher

Responsible for managing the work order and technicians.
Optimizes job scheduling based on business rules.

Field Technician

Runs service tasks on-site from any device.
Accesses key information from Salesforce to complete the job.
Key features of Field Service Lightning
Work Order Management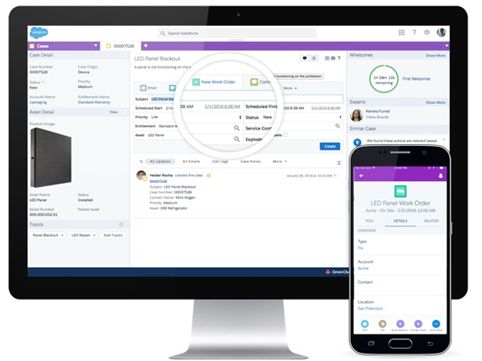 Work orders represent tasks to be performed on a customer's product, typically in field service. Use work orders to efficiently track repairs, standard maintenance, and other types of service.
They can be associated with any other standard object (accounts, assets, cases, contacts, entitlements, service contracts) or custom ones.
There is a possibility to add Work Order Line Items which represent specific tasks that a technician must perform to complete the work order. They improve visibility of tracking the progress and can be useful in optimizing service processes.

Smart Scheduling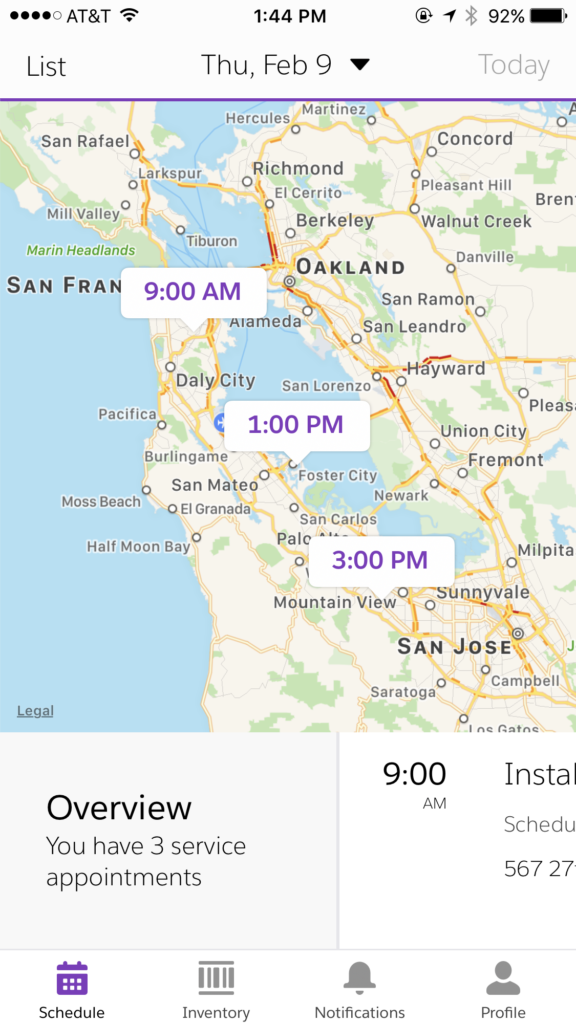 Probably one of the biggest headaches for Field Service and Dispatchers is managing the scheduling of appointments. FSL enables us to establish scheduling policies and work rules that can result in much smarter resource allocation and overall scheduling.
We can, for example, define how much time  it takes to install a specific resource. The system takes into consideration also travel time and time zones. Our technicians can have different availability – in Salesforce's solution they can have separate calendars where you can mark their time slots.
Technicians can have different skills and various level of expertise in the domains. We can choose if we prefer the least or most qualified resource when assigning services.
What is more, customers can have different service levels. According to that agreement we can specify different policies that should apply to that specified accounts.
As you can see there are plenty of options here that facilitate automatic appointments assignment to the right technician based on time, skills, locations, and any business rules.
Dispatcher Console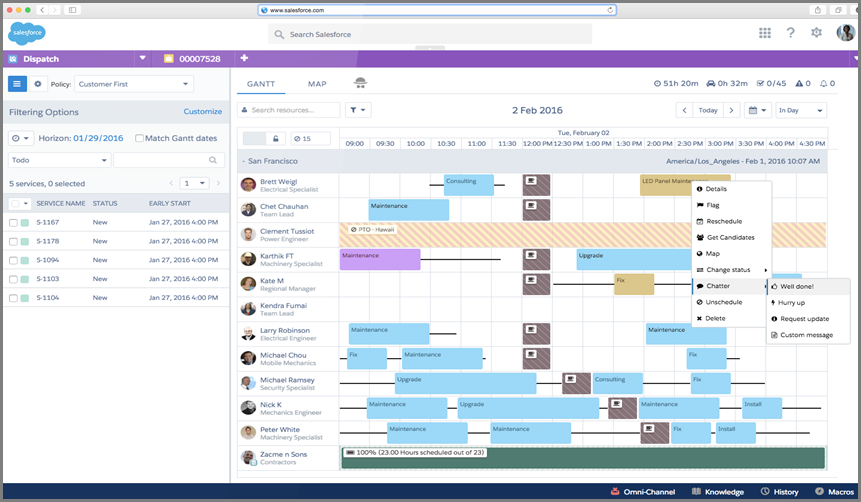 Dispatcher Console gives dispatchers a bird's-eye view of all scheduled service appointments. It is the place where dispatcher can ensure that the right job is assigned and routed to the right mobile employee. Clean and slick UI provides insights into technicians work. Dispatcher can track and monitor the service delivery in real time on a map or Gantt chart.
Info displayed on Gantt:
Resource's general availability, paid time off and lunch breaks
Scheduled Services, current status, rule violations, and jeopardy alerts
Contractor's utilization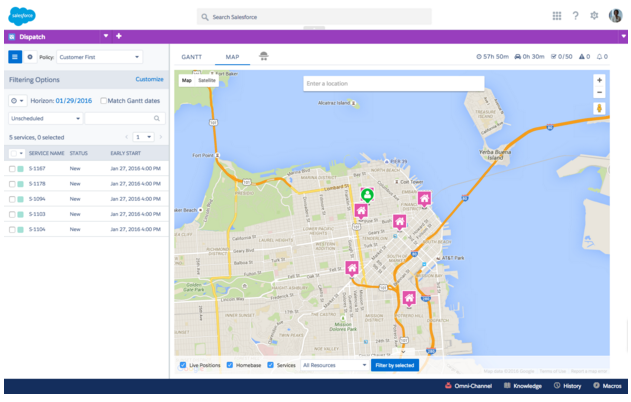 The map can display Service locations, technician's home base as well as the last position where the technician updated his status.

Technician Mobility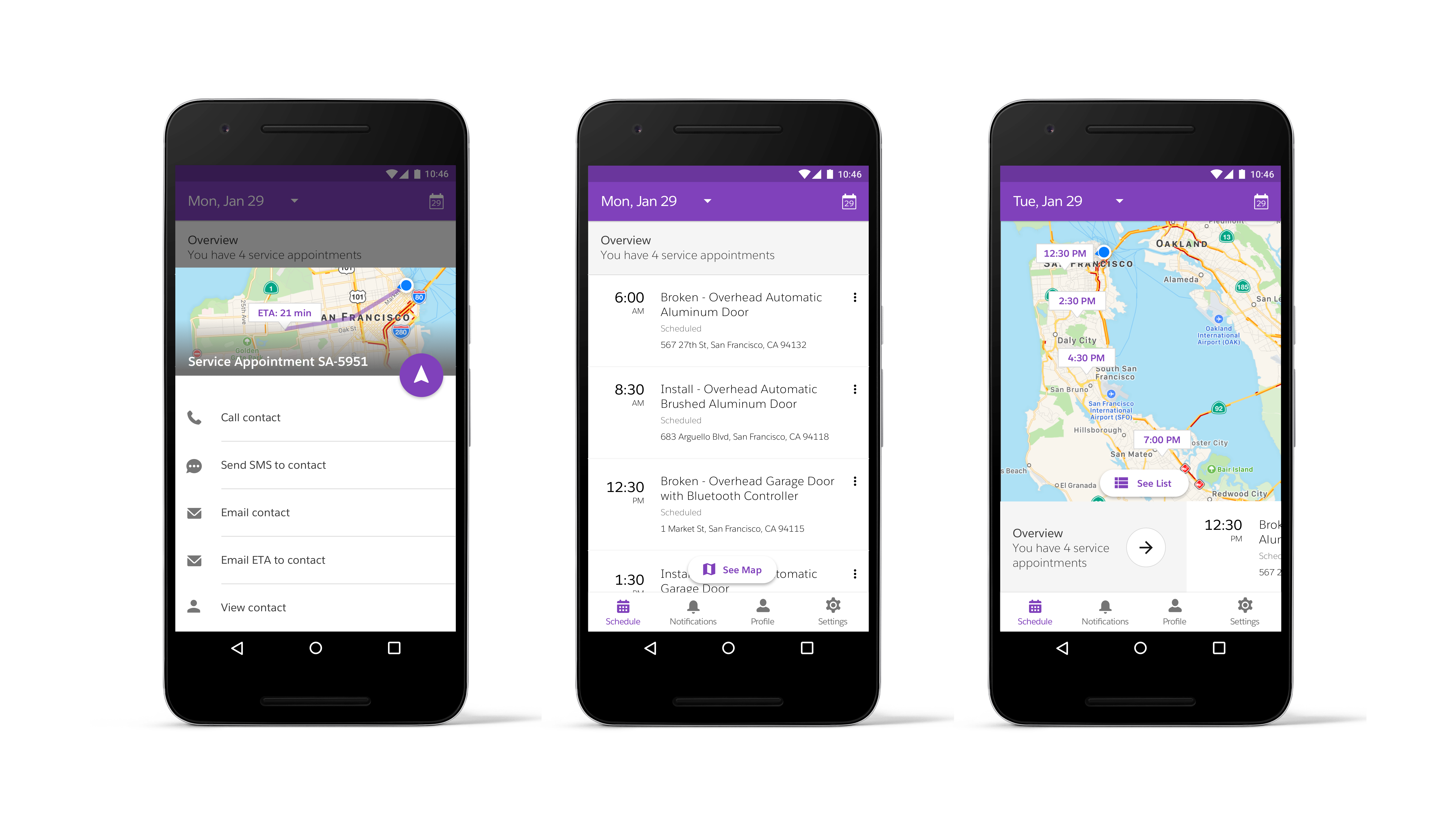 Technicians are on the road and often their access to laptops is limited. Just couple of days ago Field Service Lightning Mobile App for iOS was released. It supports a full range of field activities,  ranging from sending and receiving real-time updates to managing work orders to facilitating manual administrative work. Seamless integration with GPS and mobile phone devices provides up-to-date information about technician location. It works even when offline so you don't have to worry about poor network connection. Additional features include scanning barcodes and QR codes directly from the app, generating and sending Service Reports and easy access to helpful Knowledge Articles.
Version for Android is said to be available on Google Play by the Winter '18 release in October 2017.
(Visited 3,447 times, 1 visits today)