After small break it's time to get back to the business. In this post I would like to concentrate on pretty new Salesforce Community Cloud Consultant exam. It's after Sales and Service exams another one that falls into Consultant section. Salesforce states that certificate 'is designed for consultants who have experience implementing and consulting on the Salesforce Communities applications in a customer-facing role. This credential is targeted toward the Salesforce Community Cloud Consultant or Partner who wants to demonstrate their skills and knowledge in designing, configuring, building, and implementing Salesforce Communities applications, using the declarative customization capabilities of the Communities platform.
Concerning Technical Architect track this exam is optional but recommended in the process of preparing for the final TA Review Board exam.
[youtube id="xE_SPFpvy9o"]
Question: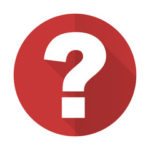 Universal Containers is launching a Community to drive their channel sales. The requirements are as follows:
Integration with a Back-Office Legacy System that supports API-Level Integration and Salesforce Connect. This integration does not exist today.
Integration with a pricing and quoting tool. This integration exists today for internal users in the Salesforce org.
External partner users must be able to configure the quote using the pricing and quoting tool from the Community.
The pricing and quoting tool must support Community users.
Universal Containers owns licenses for Salesforce Connect.
What are the two most efficient ways for a Salesforce Admin to accomplish this task?

Choose two answers

A. Integrate the Back-Office Legacy System using custom code development.
B. Integrate the Back-Office Legacy System using Salesforce Connect.
C. Integrate the pricing and quoting tool by configuring external users to make it available in the Community.
D. Integrate the pricing and quoting tool by creating custom code to make it available in the Community.
Community Licenses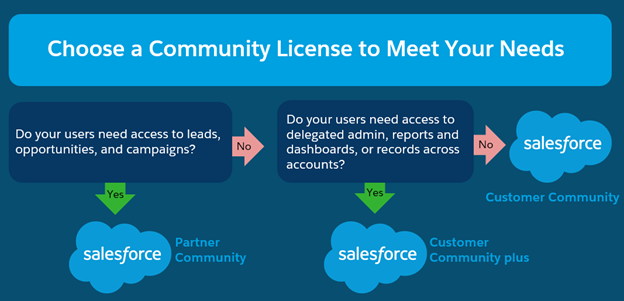 | Community License Name | Best Used For | Comparable Portal License |
| --- | --- | --- |
| Customer Community | Business-to-consumer communities with large numbers of external users | High Volume Customer Portal, Service Cloud Portal, Authenticated Sites Portal |
| Customer Community Plus | Business-to-business communities for support and non-sales scenarios, such as eCommerce | Customer Portal — Enterprise Administration |
| Partner Community | Business-to-business communities that need access to sales data such as partner relationship management | Partner |
Customer Community
Large B2C community with millions of users
Customer Community Plus
Do your community members need access to:
Reports and dashboards
Delegated admin
Content libraries
Records across accounts
Partner Community
In addition to the above, do your community members also need access to:
Leads and opportunities
Campaigns

Things to remember:
Communities licenses are associated with users, not a specific community.
You can have up to 100 communities in your Salesforce org.
Unauthenticated users do NOT count against community's licenses.

Enterprise Edition – 500,000 views/month
Unlimited Edition – 1 million views/month

Customer Community Licenses can't have roles.
Community Templates

You should be acquainted with different types of offered templates and be aware which one is most suitable for given use case.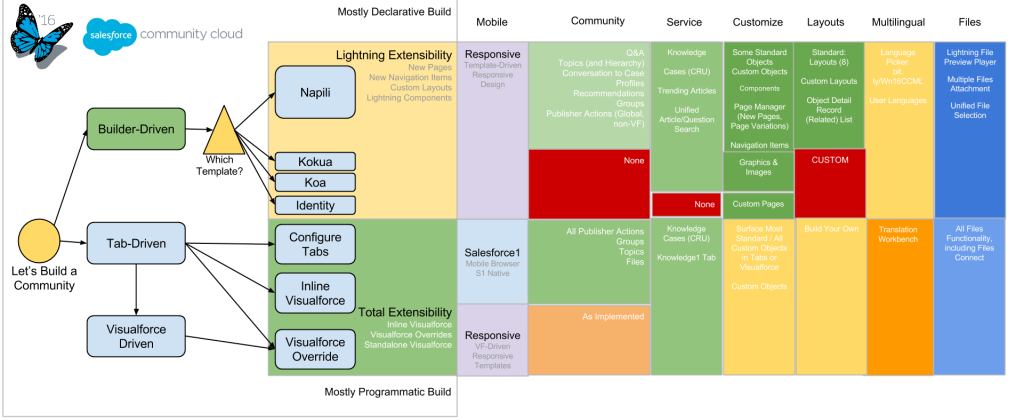 Aloha Template
With a community that's built on the Aloha template, customers use their community account to launch apps for support, billing, collaboration, or other services that they need with one click. They can also edit their own user profile information. As an administrator of the community, you can manage their access to third-party apps and monitor and control their usage.
Aloha basically leverages single sign-on authentication capabilities (Salesforce Indentity) and allows user to get easy access to Connected Apps.

Question: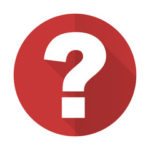 Universal Containers wish to set up an easy to configure and maintain App Launcher with Single Sign On Capabilities. Which Salesforce Community template would you recommended to best achieve this?

Choose one answer

A) Koa
B) Napili
C) Aloha
D) Kokua
E) None of the above
Kokua (1)
Kokua is a visually rich self-service template that presents users with knowledge articles organized by data categories. Users can also submit cases to get help from agents.
Koa (2)
Koa is a text-based self-service template that's optimized for mobile devices. It lets users search for and view articles by text representations of data categories, and contact support if they can't find what they're looking for.
These two templates are basically the same. Main difference is that Kokua is more visually pleasing than Koa template.
Napili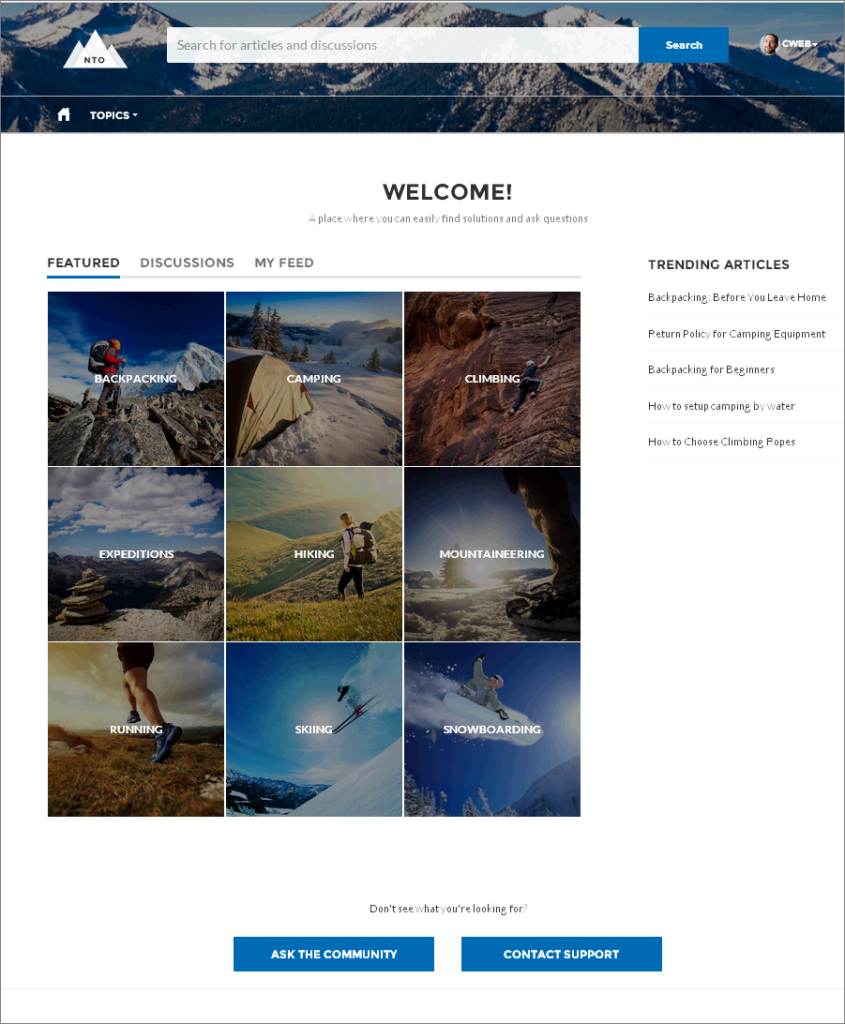 Customer Service (Napili) template lets your customers post questions to the community and search for and view articles. If they don't find what they're looking for, they can contact a support agent.
That is basically the most robust and advanced template of all. It provides fully collaborative environment for users (Q&A capabilites):
When customers type a question in the search text box, the results include articles and similar questions that are based on matches with the typed text. If the answer isn't in the results, they can get help from the community by asking a question—letting community experts discuss the issue and provide a solution. And if they decide to contact customer support, they're presented with a list of suggested articles based on keywords they type in the case subject and description. So there's an excellent chance they can find an answer without needing to create a support case.
Salesforce Tabs + Visualforce
Standard Salesforce structure and tabs that you can customize using Visualforce. Allows full platform access with a flexible configuration. Requires developer experience and advanced setup skills. Supports most standard objects, custom objects, and Salesforce1. Keep in mind that the Salesforce Tabs + Visualforce template doesn't work with Community Builder.

Question: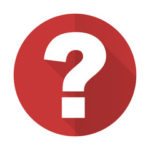 Regional Containers wish to establish a Community for their Partner network. They have complex requirements and from sampling their Partner network there is no need to provide mobile capabilities. What type of community best suits Regional Containers needs?
A) Koa
B) Kookaburra
C) Visual Force + Tabs
D) Aloha
E) Napili

Feature Comparison
Community Builder

[youtube id="ZgI6pVF8eo0″]
There are plenty of questions regarding that topic so you should know Community Builder inside out. Community Builder is a WYSIWYG tool that enables you to easily customize look & feel of your community.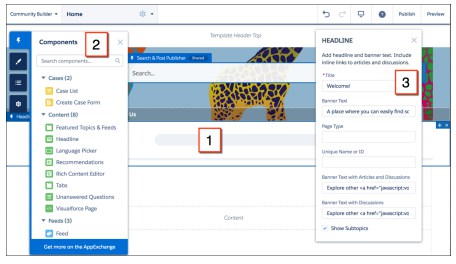 You can add new lightning components to your community's pages or edit the properties of existing components to customize each page to suit your needs.

Question: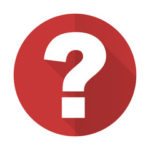 A Salesforce Admin needs to add Reputation to the home page in the Customer Service Napili Community. Reputation points and levels have been created. What should the Salesforce Admin do in Community Builder to accomplish this task?
A. Create a custom Lightning component and add it to the home page.
B. Drag and drop the Reputation Leaderboard component onto the home page.
C. Add a generic component and name it Leaderboard.
D. Enable Chatter for the Customer Service Napili Community.
Branding

Each template includes predefined styles to control the appearance of the pages. Depending on the template that you select, you can use Community Builder to:
Apply a color scheme that's appropriate for your template with the color palette.
Choose colors for text, borders, and button backgrounds.
Upload your own company logo image to generate a custom color palette based on its main colors.
Specify font family, style, and weight.
Change header and page background color, font family, font size, and font color.
Use custom CSS to apply your own styles.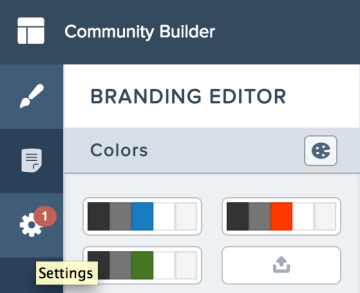 Question: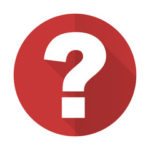 What declarative Community Branding features are available in the Community Builder?
A) Overlay Colour
B) Custom Fonts
C) Header Fonts
D) Company Logo
E) Accessibility Colours Selection
Custom Pages
You can create custom page if needed as well and embed it in your community.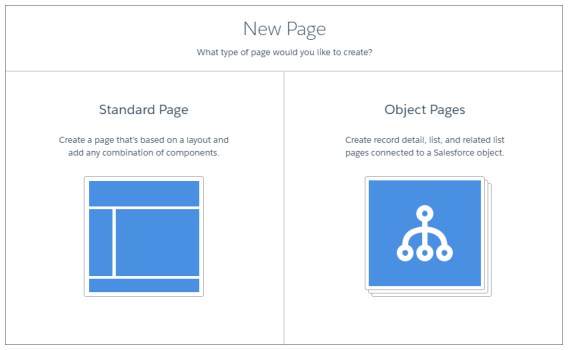 There are two options:
Standard Page – create new blank container where you can drag and drop components
Object Page – a detail, a list, and a related list page associated with one of your Salesforce objects
Furthermore you can specify access to newly created page: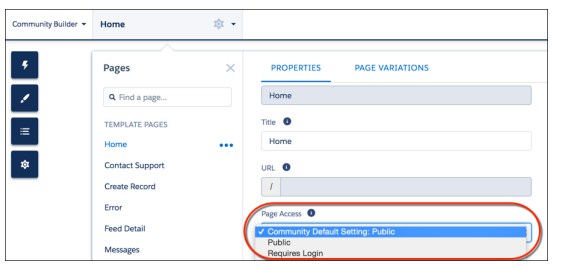 Question: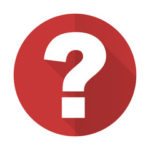 Your company is using the Napili Community Template and wishes to add a new custom page what steps should you take to complete this?
A) Ask your developer to create a new Visualforce Page
B) Install the Community Page Manager from the AppExchange
C) Clone an existing page in the Community Builder
D) Create a new page from in the Community Manager
E) Create a new page in the Community Builder
Page Variations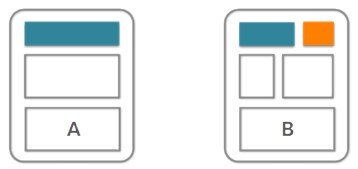 Page variations are alternative versions of a page. You can use them to try out different page layouts and styles, or create variations that are aimed at distinct audiences. Every page in your community, including custom pages, must have one default page variation. You can add as many extra variations as you need on the page's Page Variations tab.
Assigning specific audience criteria to a page variation lets you target a particular set of members. Criteria include:
Profile
Location (based on user's IP address, works only in countries that allow the use of the Google API)
Record type

Question: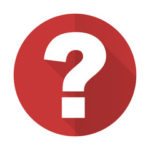 Your company requires to set up community access for both customers and partners but wish to tailor the content that is shown for each member type and region, how do you architect this solution?
A) Create two Communities, one Customer Community and one Partner Community
B) Create a Community tailored to each region
C) Create one Community using Sharing Sets to control what members see
D) Create one Community and use page variations to control what members see
E) Create one Community and build a lightning component that displays different content based on the users profile logging in
Community Management
Reputation
Reputation in the community directly corresponds to how active user is. The more he posts, comments, and shares, the higher his reputation level will be.
Enable reputation in your community so that members are recognized and rewarded for participating.
Personalize labels and point values from the Community Management page. Each activity can have different number of points assigned, for example: writing a post can be 1 point, answering a question 5 points etc
Set up reputation levels (10 levels are enabled by default).
Topics

You can set Navigational topics and Featured topics. They are used to organize content in the community.

In Community Workspaces or Community Management, choose navigational topics and subtopics to provide a consistent map of your community. Use featured topics to highlight current, popular conversations. In the community itself, member-created topics let users organize information for each other, creating a personalized experience that boosts community engagement.

Community Moderation Rules

Create and modify rules for your community to moderate member-generated content. Each rule specifies the member-generated content the rule applies to, the criteria to enforce the rule on, and the moderation action to take. Moderation rules help protect your community from spammers, bots, and offensive or inappropriate content.

Your org can have up to 30 rules. This limit is per org, not per community. This limit includes both content rules and rate rules.
Each content rule can have up to 3 keyword criteria and 10 member criteria.
Moderation rules apply only to feed posts, comments, and polls. Moderation rules do not apply to topics that are created.
Create Moderation Criteria for Your Community
Some things to keep in mind:
Your organization can have up to 10 keyword list criteria. This limit is per organization, not per

community

.
A keyword list can have up to 2,000 keywords.
Capitalization and trailing punctuation are ignored when matching your keywords to user-generated content. For example, if your criteria includes BadWord, it's matched when a user types BADWORD or badword.
You can't use the

API

to set up moderation criteria.

Question: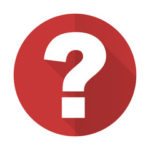 Your company has provided you with a list of 'Bad Words' that they would like community users prevented from posting in the community. What do you use to achieve this?

A) Moderation Rules
B) Content Criteria & Content Rules
C) Content Criteria & Rate Rules
D) Member Rules
E) Member Criteria & Rules
F) Enable Automatic Sensitive Word Filtering
Create Moderation Rules for Your Community
Some things to keep in mind:
Your organization can have up to 10 rules. This limit is per organization, not per

community

.
Each rule can have up to 3 criteria.
Rules that block content run first, followed by rules that replace content, then rules that flag content. If two or more rules perform the same action, the oldest rule runs first.
You can't use the

API

to set up moderation rules.

Question: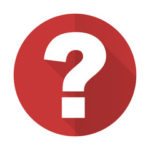 Your company has provided you with 7,452 'Bad Words' they wish to prevent being used in the Customer Community. How many Content Criteria are required to support this requirement?

A) 4
B) 3
C) 2
D) 1
E) 7,452
Security and Sharing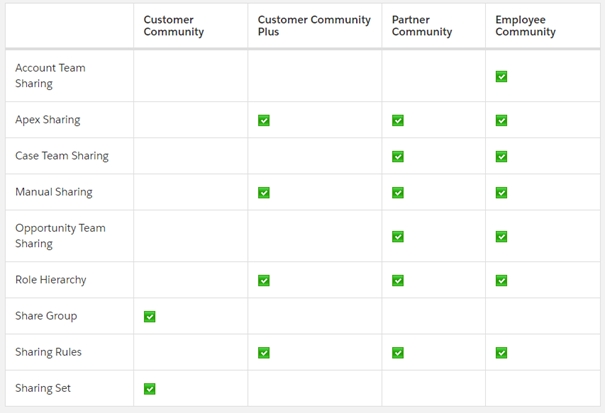 External organization-wide defaults provide separate organization-wide defaults for internal and external users. They simplify your sharing rules configuration and improve recalculation performance. Additionally, administrators can easily see which information is being shared to portals and other external users.
Sharing Sets
Sharing Sets apply to Customer Community Licenses only! They grant portal or community users access to records that are associated with their accounts or contacts using sharing sets, based on their user profiles. I've already mentioned it in some of the previous posts so will just briefly describe it here.
To play a little bit with that functionality you have to have the Community enabled in your org and then you can simply go to Customize -> Communities -> Communities Settings. You can then select which object type records you would like to share: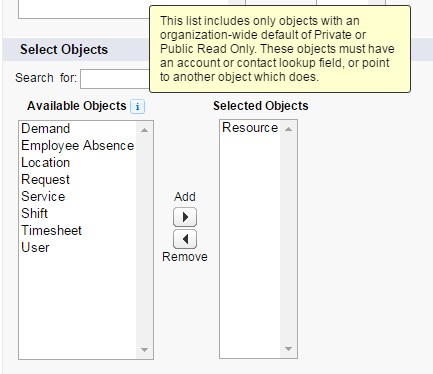 and then, based on the match of the selected lookup field in the the User's object and the selected lookup on the target object system, it grants the access to the records that meet the critera: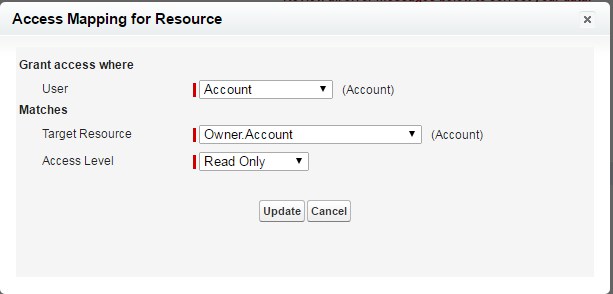 Super User Access
When you enable super user access, you can grant super user access to partner users in communities. Super user access allows partner users to view the data of other users with the same role in the partner role hierarchy. You can grant super user access to anyone with a Partner Community or a Customer Community Plus license.
(Visited 10,236 times, 1 visits today)